---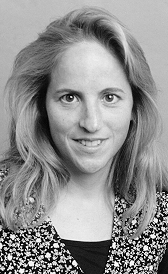 Marian Stewart Bartlett, Ph.D.
---


Marian Stewart Bartlett
The Salk Institute, CNL
10010 North Torrey Pines Road
La Jolla, CA 92037

619-453-4100, ext. 1420
email: marni@salk.edu

I have moved to the University of California, San Diego, where I am doing a postdoc in the Machine Perception Lab with Javier Movellan. New web page and contact information.

I am a postdoc with Terry Sejnowski at the Salk Institute working on image analysis and statistical pattern recognition. I received my PhD in Cognitive Science and Psychology from the University of California, San Diego in 1998. My doctoral dissertation was on "Face image analysis by unsupervised learning and redundancy reduction." View Abstract. Download. 1.9 megs compressed.

View a full list of my publications.
My papers on ICA for face image analysis.
Download my academic CV.
Link to CNL home page.
Other papers from my lab can be found on CNL publications page or CNL public FTP site.
Links to UCSD Departments: Psychology, Cognitive Science.
View web statistics.


Current Projects:
1. Facial expression recognition

The Facial Action Coding System, (FACS), devised by Ekman and Friesen, provides an objective means for measuring the facial muscle contractions involved in a facial expression. In this paper, we approach automated facial expression analysis by detecting and classifying facial actions. We generated a database of over 1100 image sequences of 24 subjects performing over 150 distinct facial actions or action combinations. We compare three different approaches to classifying the facial actions in these images: Holistic spatial analysis based on principal components of graylevel images; explicit measurement of local image features such as wrinkles; and template matching with motion flow fields. On a dataset containing six individual actions and 20 subjects, these methods had 89%, 57%, and 85% performances respectively for generalization to novel subjects. When combined, performance improved to 92%.